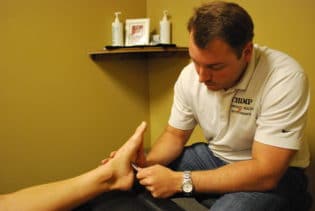 01 Apr 2021
Overview of Graston Technique® Therapy
Soft tissue injuries can be debilitating and frustrating. Graston Technique® (GT) therapy is successful in effectively treating all soft tissue conditions, whether they are chronic, acute or post- surgical. GT therapy can help you enjoy life again.
Our unique technique and instruments enable the treatment of scar tissue and fascial restrictions during rehabilitation that allows for faster rehabilitation and with greater success when the goal is restoring range of motion, eliminating pain, and restoring normal function.
Dr. Stone has been certified and practicing Graston Technique since 2009. Dr. Ian is certified in both modules of Graston.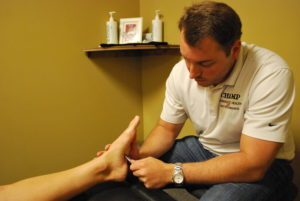 Dr. Stone at CHAMP Chiropractic utilizes Graston for:
Plantar Fasciitis
Ankle Pain (Achilles Tendinosis/itis)
Wrist Pain (Carpal Tunnel Syndrome)
Neck Pain (Cervical Sprain/Strain)
Fibromyalgia
Hamstring Injuries
Hip Pain
IT Band (Iliotibial Band)
Tennis Elbow (Lateral Epicondylosis/itis)
Back Pain (Lumbar Sprain/Strain)
Golfer's Elbow (Medial Epicondylosis/itis)
Knee Pain (Patellofemoral Disorders)
Heel Pain (Plantar Fasciitis)
Shoulder Pain (Rotator Cuff Tendinosis/itis)
Scar Tissue
Trigger Finger
Women's Health (Post-Mastectomy and Caesarean Scarring)
More about Chiropractic Treatments at CHAMP Chiropractic
chiropractic / chiropractor / feet / fitness / graston / injury / Physical Therapy
01 Apr 2021
NormaTec is the leader in rapid recovery—our systems give a competitive edge to the world's elite athletes, coaches, and trainers. The goal of NormaTec is to establish recovery as an integral part of every athlete's training. The NormaTec PULSE Recovery Systems are dynamic compression devices designed for recovery and rehab. The NormaTec system use their patented PULSE technology to help athletes recover faster between trainings and after performance.
NormaTec is championed by elite athletes but is beneficial for active people at all levels.
NormaTec systems include a control unit and attachments which go on the legs, arms, or hips. They use compressed air to massage your limbs, mobilize fluid, and speed recovery with our patented NormaTec Pulse Massage Pattern. When you use the system, you will first experience a pre-inflate cycle, during which the connected attachments are molded to your exact body shape. The session will then begin by compressing your feet, hands, or upper quad (depending on which attachment you are using). Similar to the kneading and stroking done during a massage, each segment of the attachment will first compress in a pulsing manner and then release. This will repeat for each segment of the attachment as the compression pattern works its way up your limb.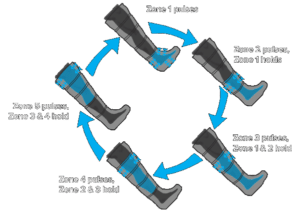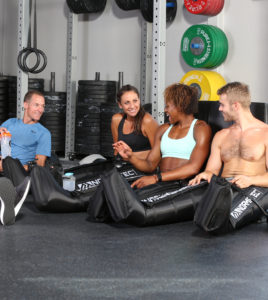 The NormaTec Pulse Massage Pattern starts in the foot, hand, or lower hip and moves upwards zone-by-zone massaging the limb and mobilizing fluid out of the extremities.
Created by a physician bioengineer (MD, PhD) to enhance blood flow and speed recovery, NormaTec Pulse Massage Pattern employs three key techniques to maximize your recovery:
PULSING: Instead of using static compression (squeezing) to transport fluid out of the limbs, Sequential Pulse Technology uses dynamic compression (pulsing). Our patented pulsing action more effectively mimics the muscle pump of the legs and arms, greatly enhancing the movement of fluid and metabolites out of the limbs after an intense workout.
GRADIENTS: Veins and lymphatic vessels have one-way valves that prevent fluid backflow. Similarly, NormaTec Pulse Technology uses hold pressures to keep fluids from being forced in the wrong direction. Because of this enhancement, instead of tapering pressure off, the PULSE and PULSE PRO can deliver maximum pressure in every zone.
DISTAL RELEASE: Because extended static pressure can be detrimental to the body's normal circulatory flow, Sequential Pulse Technology releases the hold pressures once they are no longer needed to prevent backflow. By releasing the hold pressure in each zone as soon as possible, each portion of the limb gains maximal rest time without a significant pause between compression cycles.
chiropractic / chiropractor / fitness / injury / Physical Therapy / Uncategorized / wellness
Hot, muggy summers can bring about significant growth issues in your greenery enclosure. While summer fungus–such as the scandalous fine mildew–might not be specifically deadly to your plants, it can bring about compelling scourge that spreads quickly and quickens fall lethargy. What's more, if left untreated, scourge can at last murder a plant. Try not to give growth a chance to assume control over your patio nursery during an era when it ought to be in its most delightful state….
Message Therapy / Physical Therapy