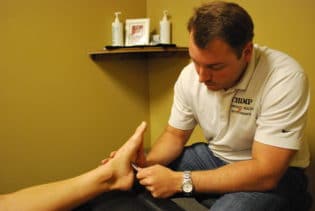 01 Apr 2021
Overview of Graston Technique® Therapy
Soft tissue injuries can be debilitating and frustrating. Graston Technique® (GT) therapy is successful in effectively treating all soft tissue conditions, whether they are chronic, acute or post- surgical. GT therapy can help you enjoy life again.
Our unique technique and instruments enable the treatment of scar tissue and fascial restrictions during rehabilitation that allows for faster rehabilitation and with greater success when the goal is restoring range of motion, eliminating pain, and restoring normal function.
Dr. Stone has been certified and practicing Graston Technique since 2009. Dr. Ian is certified in both modules of Graston.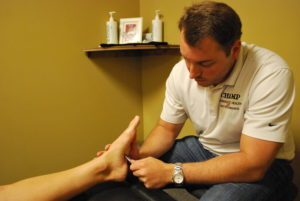 Dr. Stone at CHAMP Chiropractic utilizes Graston for:
Plantar Fasciitis
Ankle Pain (Achilles Tendinosis/itis)
Wrist Pain (Carpal Tunnel Syndrome)
Neck Pain (Cervical Sprain/Strain)
Fibromyalgia
Hamstring Injuries
Hip Pain
IT Band (Iliotibial Band)
Tennis Elbow (Lateral Epicondylosis/itis)
Back Pain (Lumbar Sprain/Strain)
Golfer's Elbow (Medial Epicondylosis/itis)
Knee Pain (Patellofemoral Disorders)
Heel Pain (Plantar Fasciitis)
Shoulder Pain (Rotator Cuff Tendinosis/itis)
Scar Tissue
Trigger Finger
Women's Health (Post-Mastectomy and Caesarean Scarring)
More about Chiropractic Treatments at CHAMP Chiropractic
chiropractic / chiropractor / feet / fitness / graston / injury / Physical Therapy
Have you tried chiropractic? Many of my current patients come to see me for chiropractic care as a last resort. They've tried everything else first. They've accepted that pain is their new normal.
I want you to know that you don't have to try everything else first, in many cases chiropractic care can be your first call. Chances are that with early intervention, chiropractic care may be your last call too.
Here are just a few success stories about our treatments…
Chiropractic Care and Plantar Fasciitis
Tammy came to me after
her medical doctor and orthopedic doctor told her "the only thing she could do was wear orthotic shoes or insoles every day."  Tammy didn't accept this as her only option and began treatment and therapy at CHAMP. In about two months of regular treatments her constant pain from Plantar Fasciitis has ended and she doesn't have to wear special shoes or insoles. Tammy has been free from Plantar Fasciitis pain for two years.
Chiropractic Care and Range of Motion
Brian came to see me after he sustained a shoulder injury on the golf course. Brian is an avid golfer and actually had been attending my golf fitness class for months before his injury. Brian hadn't been to a chiropractor before. We worked together with graston, ART, and spinal manipulation to return and even improve the range of motion in his shoulder. Now Brian has become a regular chiropractic patient and does wellness visits to keep feeling strong and healthy.
Kathy came to see me two years after breaking her arm and shoulder from a fall and extensive surgery. Even after two years of physical therapy and rehabilitation, Kathy was unable to manage simple daily tasks like drying her hair or fastening an undergarment, and it had greatly affected her quality of life. At the time Kathy was 69 and starting to accept that she'd have to live with limited range of motion the rest of her life. Kathy's visits lasted 6 months with chiropractic adjustments, graston, ART and Cold laser. She went from being 4 inches away from touching her own ear to placing her hand at the base of her neck. She can now use a curling iron to style her hair something she dreamed about before chiropractic treatment.
I know from personal conversations with each of these patients and many others that they wished they had tried chiropractic sooner. If you feel like you've tried everything, give me a call to set up a free consultation to talk through a treatment plan. You don't have to accept daily pain and a diminished quality of life. Chiropractic may be the answer you've been seeking.
Dr. Ian Stone
317-219-4980
Same-Day Appointments, Insurance Accepted, Free Consultations….what's stopping you from feeling better today?
A.R.T. / chiropractic / cold laser / feet / graston / injury / Medical Articles / pain / wellness